WARNING: This post contains numerous (excessive, really) instances of the word "flesh"
ANTIWARNING: Although (as with any body mod) numerous pictures of stretching gone wrong exist at the top of a google image search, I don't like looking at them so I didn't put them here. If you're the sort who needs to see everything that goes wrong before you commit to a body mod, then I'm sure you know what to do.
I decided a few weeks ago that I really, really wanted to stretch (aka gauge) my ears. For the uninitiated, this means taking a normal ear piercing, like the kind you get in Claire's and that fit snugly around the kind of earring you buy anywhere, and shoving increasingly large things through it until your earlobe stretches around it. You've probably seen someone with earlobes you could put a finger through, or learned about tribes and ancient civilizations that could put a dinner plate through their ears and/or lips. Incas and various african tribes are who I think of first,
but there are lots of others
. For me, there is no religious, cultural, or traditional significance to it. As with all my ear, facial, and dermal piercings and my tattoo, I just think it looks really damn cool.
I'm not as cool as this lady, though.
Disclaimer: before doing this, please continue to read other things on the internet about how to stretch your ears. If you're unsure about exactly what you're supposed to do, go find a tattoo/piercing parlor and talk to the people who work there. If no one has gauged ears, someone has almost certainly read up on it, and they might do at least the first stretch for you or have tapers and plugs to sell you.
Stretching Terminology
Taper
: Conical tool with a base the size of the gauge you're aiming for that tapers to a point so you can gradually stretch your ears. May be straight or curved for stretching depending on what you're most comfortable with, as long as they're good materials like glass, stainless/surgical steel, or titanium. Conflicting information about the proper use for tapers indicates that you may be able to leave a taper in long-term and slowly stretch up a gauge, but you should not do that if it makes your ear hurt because tapers are asymmetrical (and heavy, at the larger sizes) and could damage your lobes. The small gauge tapers are sharp and kind of stabby, since they start at about the diameter of a normal piercing. I let one rest in my left ear for about an hour, but 14 is skinny and light weight compared to my unstretched lobe. I suspect that the warning about not leaving stretching tapers in for a long time is focused on the larger gauges, probably starting around 4. Decorative tapers, such as the spiral and curved hooks or the long straight spikes, are often a lighter weight material and designed to be worn for a day at most, as they're not antimicrobial like stainless steel or glass.
Stainless steel stretching tapers (14g) with 18g earrings and a quarter for size comparisons
Decorative polymer clay taper
A whole new spin on "earplug"
Plug
: Short fat earring with a varying number of flared ends, depending on the gauge. Larger gauge plugs a lot of times are double flared, meaning you have to stretch your ear a little larger than the gauge you're already at while you put the plug in; single flared plugs have one straight edge the size of the gauge and one flared end to keep the plug from slipping through. Single flares need to be held in place with o-rings that function like the back of a normal earring. Smaller gauge plugs usually have a single flare because the flesh around the hole is too thick to wiggle a flare through.
Tunnel
: Plug that is hollow.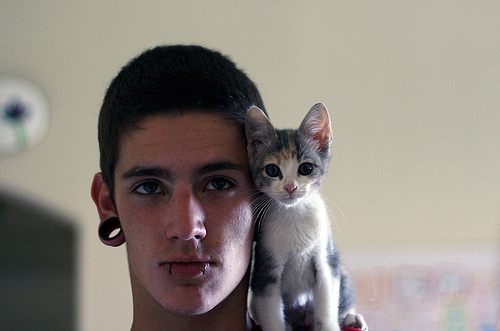 The tunnel is on the other side from the cat.
Spacer
: As far as I can tell, something that you put in a stretched piercing. A perfunctory google search pulls up tunnels, plugs, and tapers, as well as funky-shaped plugs and unexpected items being used as plugs. My thoughts are that it's like I have four earrings in my right ear, two studs and two captive bead rings. All four are earrings, but they're different types. Similarly, spacer seems to be the catch-all word for plugs, tapers, and tunnels that you use when you're not trying to be specific.
Gauge
: Technically, only refers to the size of a plug or hole (as depicted by
this handy chart
). Often used as a synonym for a plug or as a verb when talking about stretching your ears (I gauged my ears, I'm gauging my ears, how to gauge your ears). The default size for lobe piercings at places like Claire's are 18-20 gauge.
Stretch
: The more accurate way to refer the act of making your ear piercing larger.
I want my holes to look like that. Damn.
Stretching Kit
: Often a more cost-effective way to stretch, since you don't have to buy individual tapers and plugs and hope they're the same size; kits are usually a great value because you pay less for all the tapers and plugs together than you would for the same number of tapers and plugs bought individually.
This stretching kit is pretty, but I wouldn't buy it because it's acrylic.
14g-0g stainless steel stretching kit (link to Amazon below) with two plugs and two tapers per gauge. All O-rings included. Quarter included for size comparison. CAVEAT: plugs have little cut-outs (for O-rings to rest in) that can catch on your lobes and be all painful and stuff.
Fistula
: The inside of your piercing, or the skin that forms the tunnel through the flesh of a healed piercing. The bit of you that touches the post of an earring. Medically, refers to any tunnel though any tissue regardless of what caused the tunnel to form (birth defect, injury or trauma, piercing).
Blowout
: Put simply, when you taper wrong and break the fistula. Put descriptively, blood and pain and flaps of skin exploding out the back of your earlobe. Depending on the size of your stretch and the personal habits of your ears, you can have something as severe as your earlobe getting ripped in half or something as comparatively mild as cat butt, which is when your earlobe looks like it has a puckered little anus in it instead of a lovely smooth hole. In the middle of these is having bloody flaps of skin hanging out the back of your ear and needing to downsize your plugs and coddle your ear until the loose flaps of fistula skin can be coaxed to rejoin the earlobe flesh. Blowout can be avoided by stretching very slowly, stopping when you feel pain, and using smaller increments when stretching if all else fails (taping or using the odd-numbered gauges). All sources point to not using tapers after 2g, although most taper kits go up to 0g or even 00g. At that point, I'm pretty sure that your holes are delicate and need taping no matter how stretchy your lobes have been so far.
Ear Cheese
: The dead skin cells that slough off your fistula, work their way out of the piercing hole, and accumulate around the jewelry. I get it on all my piercings that don't have hoops; it gathers on the ends of my eyebrow barbell, around the jewel on my nose stud, and in the backs of my normal earrings. Smells like foot cheese. The skin cell sloughing is totally normal and happens on all of your skin, but in the case of piercings it has nowhere to go and gets all gunky instead of turning into dust or washing off in the shower.
Tips, Tricks, and Miscellany
Stretching Kits: Look for stainless/surgical steel or titanium, particularly if you have infection-prone ears; acrylic can be pretty but it's porous and hard to sterilize. Good steel and titanium are hypoallergenic and less prone to bringing bacteria along for the ride. Speaking for myself, my ears corrode anything less than solid 24 carat gold or stainless steel, including sterling silver and "nickel free" earrings, leaving a pitted earring post and a lot of pus and goop in their wake. I can wear lesser metals for a day, but no longer. Definitely don't go for wood stretching plugs or tapers; they're great for short periods once you've stretched but not for the stretching itself. Stretching makes tiny rips in your skin (microscopic; if you see blood, stop immediately); with an organic, porous material like wood, the skin will heal onto the plug instead of just adding skin cells over the wound. Also for stretching you want the smoothest surface possible on a microscopic level to prevent more injury than you're already inflicting.
If you get your ears pierced with the intention of stretching, you can ask your piercing professional to start with a larger gauge piercing. Professionals, most often found at tattoo parlors, use hollow needles that remove a plug of flesh the size of the earring rather than a gun that pokes a hole and makes the flesh stretch around it. Once your piercings heal, you'll be a few months ahead of where you would have started with small gauge piercings, and you're overall less likely to have complications during healing.
The internet recommends lots of lubrication for your tapers; vitamin E oil and Jojoba oil come highly recommended. Jojoba supposedly thickens your lobes, making it great for bigger gauge stretches where your lobe gets so thin that tearing it is a real and terrifying possibility. Vitamin E encourages collagen formation, keeping your lobes elastic, which is great for stretching to any gauge. I got a bottle of Vitamin E hair treatment oil at Sally Beauty for less than $3, so it's easier to work with (has various oily additives) and way, way cheaper than pure, food-grade vitamin E. CVS sold about the same size bottle of food-grade oil for about $10. PRO TIP: you don't need food-grade Vitamin E if you're just rubbing it on your body. Big plus: all the vitamin E you rub on your ears will make your fingers really soft, strengthen your nails, and nourish your cuticles all at the same time. If you're using non-Vitamin E oil, you'll still get soft fingers and probably slightly healthier cuticles. You can find most pure oils online for a pretty reasonable price; start with a 2 oz bottle at most, unless there is a killer deal.
Think about the size you're aiming for. If you want to wear big huge plugs that are measured in inches instead of millimeters, go for it, but remember that there is a point of no return for earlobes. If you anticipate working someplace where gauges aren't acceptable (like the military or PetSmart (according to my friend who works there) or anything that prides itself on being "family friendly"), don't go too big unless you can afford the surgery to close your holes. For a lot of people, the point of no return is 2g-0g, but every ear is different. Just because your cousin's lobes came back from 00g (a size up from 0) doesn't mean yours will come back from 2g. Play it by ear (hahaha) and stop when it feels right. I don't want big huge finger-accommodating holes, so I'll be stopping around 4g, maybe 2g or even 0g if I'm feeling really bold. The problem with coming back from big holes is that after the surgery they'll be mostly scar tissue and apparently piercers don't like working with damaged tissue. And even if you do get them pierced again, good luck getting them to gauge back up once you've moved on to a profession that allows creative expression.
Something else to keep in mind that I didn't pay attention to until it happened to me is that your own ears are different. My right ear took to my 14g taper like a fish to water, but my left ear was really stubborn about it. I left the taper half-in my left ear, stretched my right ear all the way in about 5 minutes, switched out the right taper for the plug, pushed the taper a little further into my left ear, did stuff on the computer for about an hour, pushed the left taper the rest of the way in, waited ten minutes until it stopped hurting, and then got the official plug in. My right ear was a little warm and stiff but didn't hurt unless I jostled the plug, but my left ear was warm and swollen as soon as I got the point of the taper all the way through my lobe. Old Lefty was fighting the stretch the whole time, and I went slower and used more oil than on my right ear. The moral of the story is, don't fight your ear. If you have a really stubborn lobe, go find the odd-numbered gauges or use the taping method to gradually increase your gauge.
Just like with normal earrings, avoid sleeping with heavy or dangly jewelry in your ears. In the case of normal piercings, it will just be painful when you roll over and catch the earring on something, but in the case of large gauge stretched ears you can rip your lobes or cause them to stretch unevenly.
The Actual Stretching
The Taper Method
Start with 14g or 16g, depending on your original piercings. I've had my normal-size, probably 18g holes for over 10 years, so I figured I could jump straight in at 14 based on some advice from the internets, but I probably would have had fewer problems with Old Lefty if I had started with 16g. If you've just recently healed, make sure to find out the gauge used to pierce and use the next size up. Do not skip gauges. EDITED TO INFORM YOU that only going up by twos (from 14 to 12, for instance) is MUCH MUCH easier than skipping a size even if you've had your piercing for years and years like I have. Spend the extra money to get the appropriate gauge tapers and plugs if they aren't included in the kit you like best; your fistulas will thank you for not blowing them out.

So little! Incidentally, does anyone else have creases in their earlobes?

Massage your lubricant of choice (Vitamin E in my case) into the lobe, then on the taper and your fingers. I didn't have any trouble with keeping a grip on my 14g stainless steel tapers, and had to keep replenishing my oil.

Hair treatment oil is much cheaper than pure, food grade oil

Gently push the pointy end of the taper through the piercing as if you were putting in a normal earring.

Just like we've done a million times, boys.

Stop and add oil, turn the taper, or carefully pull the taper out and start again after redoing the whole rubbing oil process if your taper is getting stuck. If it hurts, be super careful and either wait with the taper half through or take it out and try again some other time. If you need motivation to go slowly, do a google image search for "ear blowout" and see how you feel.

This was about where Lefty stopped the first time

The shiny on my poor red left earlobe is tons and tons of oil.

Once your taper is almost all the way through and isn't getting any bigger, get your plug (no more than one flare) and line it up with the blunt end of your taper. Use the plug to push the taper out of your ear and BAM, you've stretched your earlobe.

Taper is almost all the way through my right lobe...




BAM

Put o-rings on any unflared ends.

The black thing on the end of the fourth earring from the top is an o-ring

Remove plugs, clean lobes with nothing stronger than salt water, as if you just got them pierced, and massage with oil a few times a week until the plug can be easily and painlessly removed and replaced. Some sites recommend taking the plugs out daily for cleaning starting right away. I certainly recommend taking the plugs out for cleaning but I'm leaving mine alone until my lobes stop throbbing or for two days, whichever comes first. As I've said before, all ears are different. UPDATE: taking my plugs out a few days after stretching was super painful. My lobes kept getting caught on the little indent on the o-ring end of the plug and I ended up bleeding. If your plugs aren't smooth, just leave things be until you NEED to clean.
Once you get to a bigger gauge you'll need to let your lobes rest with plugs out for as long as overnight to prevent uneven stretching and large-scale ripping, but apparently just pulling the plugs out for a few minutes every day or so to clean up is fine for smaller sizes. UPDATED TO INFORM YOU that my ears have been doing great without being rested at 14g. Those instructions are more focused on big stretches and heavy plugs.
A few hours after getting the plug in, Lefty is still red.
While a few hours after being stretched, my right ear is much less angry-looking.
The Taping Method: This is not something I've done ever, so I've snatched this informative quote. The one thing I feel confident about saying is that you should really research the type of tape you want to use and don't skimp on it. You don't want your skin to fuse to the tape. I've heard really good things about using bondage tape for stretching, since it's designed for kinky, weird situations involving varying levels of moisture and body fluids, which to me sounds perfect for being in constant contact with your fistula.
At larger sizes, you may find it helpful to use a different method of stretching, called

taping

. The taping method involves wrapping small layers of teflon, PTFE or bondage tape around a piece of jewelry and reinserting it into your ear. By adding new layers of tape over a period of several days, the diameter of the plug can be increased gradually, allowing for a very safe and comfortable stretch. This method is mostly recommended for stretching to sizes 6g and larger, as the process is much more difficult with smaller jewelry. However, you can begin taping anytime you feel comfortable with it!
From
How to Stretch Your Ears
The Dead Method
: This is the technical name for shoving a larger gauge into your ear without stretching first. If you're smaller than 2g, use the taper method, and if you are going larger than 2g or are smaller than 2g but have stiff lobes, use the taping method. If you dead stretch, sooner or later you will blow your fistula right out the back of your ear. This will set you back to a smaller size for at minimum several weeks while your fistula rejoins your lobe, not to mention how much slower you'll have to go to avoid further damaging the mass of scar tissue that is now your fistula.
Link Roundup
A whole slew of sites with varying amounts of pictures and instruction. Found 'em by googling things like "how to stretch your ears," "gauge size chart," and "13 gauge earrings" but I thought I'd put my favorites in the post.
How to Stretch Your Ears
KraftyLady
King's Body Jewelry
Arka
Gauges of all sizes, including the unconventional odd number gauges
Ear Cheese
Screw Yourself
Wikipedia
Sally Beauty Supply
The taper kit I bought from Amazon
(although you should be aware that it does have cutouts for the O-rings that can catch on your lobes and be all hurtful)